Helping You Get Published blog series
"The ABCs of Book Writing"
Most things, including book writing, begin with the basics . . .
This blog series is about those basics that apply specifically to creating a book. It is about how—at the most fundamental level, from A to Z—effective books are started, get written, and develop a better than-average-chance of successful publication.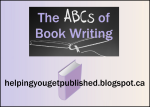 The series offers a mix of insights, reflections, personal anecdotes, and practical advice about creating a functional, commercially viable book. While there are all kinds of books (and diverse authors producing them), my aim is to focus on what is most likely to be the common experiences and demands that many authors face, regardless of their genres or intended readers. My wish is to smooth your progress along what I have observed to be the bumpiest stretches of road on the way to successful book writing and publishing.
This series, for emerging and re-emerging book authors, includes original infographics and other visuals. Follow it at: HelpingYouGetPublished.blogspot.ca.
The video below is just for fun. If only being a book author were this quick and easy! I have a lot more to say about the discipline of writing here . . . Some of it might surprise you.
Helping You Get Published books & authors
Featured
Learn how to heal your past, open your heart, and find the love relationship you've always wanted . . .
Still Single? It's Not What You Are Doing—It's How You Are Being: A Guide To Help You Allow Love In, by Kimi Combow-Gill
When it comes to relationships, do you feel fearful, blocked, stuck, or unsuccessful? If so, then this one-stop guide to greater satisfaction with yourself and others is for you.
Quite possibly the most practical, forthright—and inspiring—guide of its kind that you will ever read!
"Very well-written and helpful . . . The author shares examples and personal stories to help guide you to getting in touch with yourself. I especially liked the practical exercises . . . [and] highly recommend this book to anyone looking for a meaningful and lasting relationship." —Amazon Review
Kimi Combow-Gill, a Registered Clinical Counsellor with the BC Association of Clinical Counsellors, has a private practice in Coquitlam, BC. In August 2012, when she was in her thirties, she met her life partner. It is Kimi's hope that her book will guide and inspire others to allow love into their lives.
Forthcoming
A debut literary novel . . .
In the Belly of the Horse, by Eliana Tobias, an account of political upheavals in Peru and the devastation of a young wife and mother's dreams and family life.
Of Ongoing Interest
A notable debut novel from All Things That Matter Press . . .
Adrift, by E. J. Bancesco
In a contemporary world gripped by fear of international terrorism, the Boston architect Luca Leontin returns to his native Romania, where he not only confronts his past but finds himself adrift in a whirl of vengeance, loss, and passions both old and new. This haunting story of obsession and revenge is, above all, about the survival of love despite the corrosive action of
lifelong mistrust and suspicion.
"A brooding yet playful look at how our lives are defined by history but move along in spite of it."
"The characters [are] unexpected and lively, the language supple and evocative." —Amazon Reviews
E. J. Bancesco, a practicing architect, is also the author of a second novel, The Scarf, recently published by Hyperborea Press.
A kind of death . . .
Bleeding Hearts: A True Story of Alzheimer's, Family, and the Other Woman,
by Tami A. Reeves NEW EDITION RECENTLY RELEASED with a special Author's Note.
A candid narrative of a husband torn between love for his wife, who is suffering from early-onset Alzheimer's, and the need to move on with his own life. Told by "the other woman," Bleeding Hearts breaks the silence on a sensitive subject.
A tale for our times—an unusual, moving, and inspirational love story . . .
One man's life story—and a fresh perspective on Canadian and US history . . .
James Beaver: Footpaths through History, by Penny Warner
James Beaver, born in 1845, was among the first generation of his Cayuga people to be born and raised on a reservation. He was a self-made man, talented carpenter and carver, painter of folk art, and entertainer in medicine and Wild West shows. His life story helps illuminate the role that Natives played in the development of Canada and the United States.
"A wonderful story, and . . . most compelling to read. The incorporation of photos, art and other visual illustration make it all the more fascinating." —Gail LeFevre, Stylistic and Copy Editor
Books and authors videos
The Featured Books & Authors video series that formerly appeared on this page has been discontinued. Visit the Helping You Get Published video library for a complete list of on-site videos, including previously produced shows featuring published client books and authors and individual client book trailers.
More books & authors
View a select bibliography of Helping You Get Published books and authors, grouped by genre . . .